Grandmothers, mothers and women (GMW) The Trump Administration has become such a disruptive force to our country, until it's imperative that Congress and the Senate become bipartisan and let the American Taxpayers have the peace and comfort of knowing what's in #45 Taxes.
His Sister, Maryanne Trump-Barry, a federal appeals judge, resign amid ethics inquiry, of possible dubious tax and rental fraud. We need transparency, or you don't need to be in those seats.
Congress and the Senate should also see a non-redacted Mueller Report; after which we should see everything that's not detrimental to our country security. We have been bombarded daily with #45 shenanigans since he joined the campaign trail, and it has continued through his presidency's term so far. We as Taxpayers has a right to see those conclusion, if not our House and Senate, can no longer function; going forward, we need to relieve them of their lack of performance by voting them out.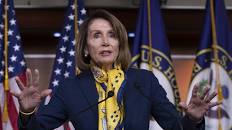 We were also looking for Bipartisan Leadership between the (2) two houses working together to help #45 bring order an continuity back to the Oval Office. But, they're becoming just as disruptive as #45.
GMW it's beginning to look like most of the 535 members of Congress (435 representative and 100 senators), will need to be replaced if they can't come together for the betterment of our country. The bickering and pettiness continues at our expense. If we the people allow this behavior to continue, we're just as guilty or looks as bad as they do. We need to step our game up and be our children's role models. We must do a better job, our children are watching us.
Speaking of our children; our children of color in London, is experiencing an uprise in knives death. London's Police Department was reduced by about 3000 thousands, and 30 youth centers were closed in the past 8 years.and in Britain its White on White crime. The driving force for the increase violence is : Gangs, drugs , peer pressure and a lack of after school and recreational facilities as options for standing on street corners
To quote Jonathan Freedland of the Opinion: While we're looking the other way, Trump has changed and is changing America for decades to come, and not for the betterment of most Americans.
If President Obama had not been so effective, in trying to make things better for Americans, #45 would not have accomplish anything on his own. President Obama and Senator John McCain, validated him, giving him value to talk about.
1. How Trump is rolling back Obama's legacy … As of Jan. 20, here are the Obama-era rules and regulations impacted by: … targeting recently issued regulations
2. Trump Administration Rolls Back Obama-Era Rules for School Lunches
3. Feb 6, 2019-A federal banking agency announced Wednesday
4. Environmental groups are concerned and plan litigation.
5. 91 percent of Trumps' judicial nominees are white and 81 percent are male, reversing Decades of steady progress
GMW, we don't want or need another man as Commander in Chief in the Oval Office, black or white.
The GOP really need diversity, women and color; maybe then, they (the GOP) will be able to come up with a campaign platform, more people will want to vote for. Then they can stopall the trickery, of trying force people to either vote for them, or not be able to vote at all.