Grandmothers, Mothers and Women (Gmw), let's keep Virginia blue; it's not going to be easy, but we can do it. We are asking all of our Democratic Senators,to please support our party and ,for once follow the examples of your counterpart, The GOP's. If you put your base first, we will give you the power!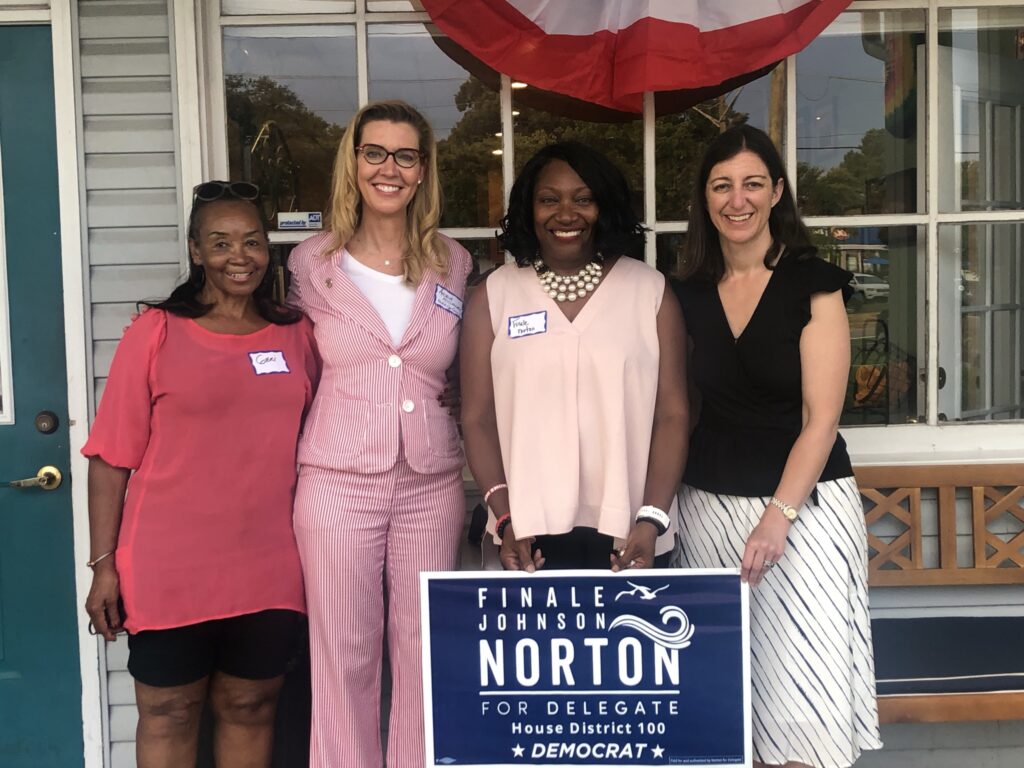 Our country appears to be either coming out of a crisis or going into one, or reverting back to a problem we thought we were getting control of. We once handle crisis as a unified nation, but our current state of divisiveness, has become a crisis in itself.
GMW, What we can do now is,"keep each other covered in prayer, and use our powers jointly to accomplish the things we know we must do." Our power is: Our God, Our Love, Our Vote and Our Dollars. We turned Virginia blue when the odds seemed daunting, but we did it. Now we must beat the daunting odds again, and send Finale-Norton to Richmond as HD for the 100th.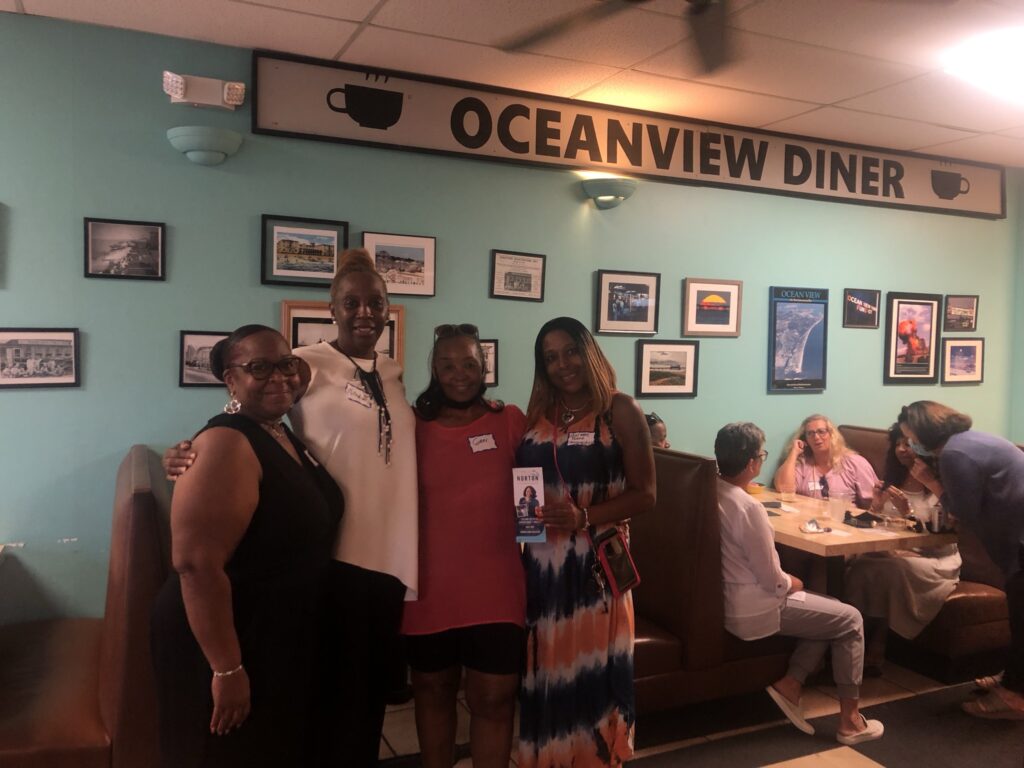 I met her last evening at an Oceanview Diner fundraise, which is requiring The use of our dollars, to make sure she has the means to run a campaign that Will turn the HD 100 blue. She's a product of the Eastern shore and is a phenomenal woman, please meet her below.
Finale Johnson Norton was born and raised in Exmore, on Virginia's Eastern Shore. She will be an advocate for working families in the General Assembly because her own family had to work very hard to make ends meet. Her mom cleaned homes before earning her cosmetology license later in life, and her father shucked clams and laid ground cable. In the eighth grade, Finale's father sadly died when he was hit by a truck. Social Security helped her family during the hard times. In high school, Finale cleaned clam buckets at 6 a.m. at Willis Wharf, graded tomatoes at Six L's, waitressed, and spent a short week picking crabs at a local crab house. Thanks to public schools, Finale had a chance to further her education. After graduating from Northampton High School, she attended Hampton University and earned her Bachelor of Science degree.
For the next 20 years as a Navy wife and businesswoman, she resided in Norfolk, Virginia, never far from home, as her family remained in Norfolk and on the Eastern Shore. Finale began working at Bank of America (FKA) Sovran Bank in 1988. Always advocating for inclusion and equity, she served on Bank of America's Diversity Council and was an executive sponsor for the company's Lead for Women initiative and LGBTQ initiative. During her 26-year tenure at Bank of America, mostly in Norfolk, Finale worked her way up to becoming an executive with responsibility for more than 3,500 employees. She then worked at a global consulting company before retiring from corporate America.n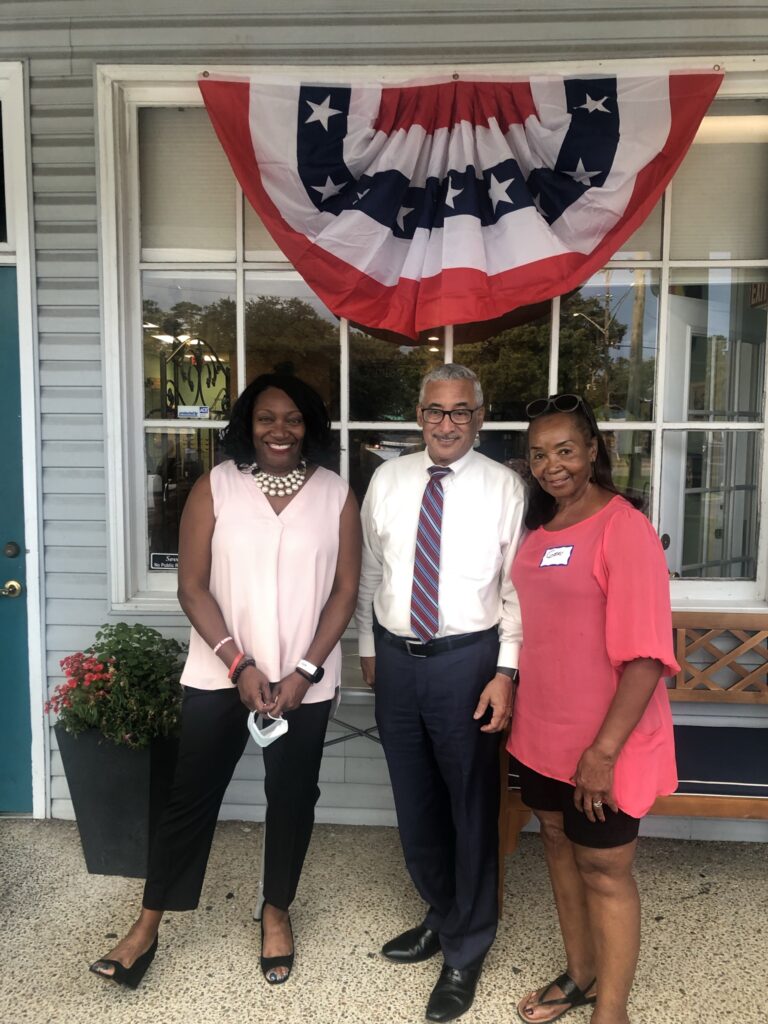 Now she wants to work for us, from Richmond as our HD100; Let's help her achieve this mission. I can assure you, we will reap the benefits of her going to Richmond on our behalf. So GMW's of the HD100 let's go into our toolboxes and get to work.
Let's also pray for the Bidens administration, the victims and their families injured in the bombing at the Kabul airport, and especially for our military men and women who made the ultimate sacrifice of giving up their lives,while supporting our Democracy and what our country stands for. We're asking God to cover our POTUS in handling the crisis in Afghanistan. Giving him the guidance, patients, strength, wisdom and understanding, to do what's best for America and our allies.
As we are all aware, the president currently in office has inherited the challenges and the benefits of his predecessor; It comes with the territory. We are all thankful for our current president, because drinking Clorox or some other disinfectant won't be able to fix this problem either.
To the POTUS, and his administration: PLEASE know all GMW's in particular and America in general, who believes in integrity, commonsense, principles, moral values-virtues discipline, understanding and discernment,supports you 100%.
🙏These things we pray in Jesus's Name🙏