The Supreme Court's hard-right majority has neither popular support for its agenda nor institutional legitimacy.
It is now controlled by a conservatives Radical Supreme Court Justices and Georgia's SB202: who have long understood that unpopular policies that cannot be won at the ballot box, can be thrust upon Americans and Georgians by an unaccountable and unelected judiciary.
GMWSOC (Grandmothers, mothers, and women saving a children), and Country. Our Votes must speak for us in every state, these up-coming 2022 midterms, or we forever abandon our children, our country and our right to our bodies, our choice!!!
Mr. Biden condemned the court's decision as "terrible, extreme and, I think, so totally wrongheaded." The order would help protect some access to reproductive services, he said, but the only real way to protect access was to elect more lawmakers who support those services. Mr President, You need to galvanize your base, stop just asking for donations without motivation. Show us your fight, and we'll give you our might.
Georgia gubernatorial election, 2022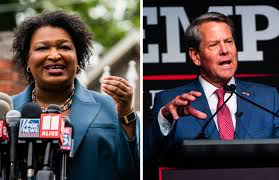 Brian Kemp (Incumbent ( R) Gov. Brian Kemp (R) signed voter suppression bill Senate Bill 202into law. S.B. 202 includes a host of voter suppression measures like shortened absentee ballot timelines, drop box restrictions, the criminalization of "line warming" and much more.
Stacey Abrams (D) Stacey Abrams is a tireless champion for the people of Georgia and for democracy. She is running for governor "because opportunity and success in Georgia shouldn't be determined by zip code, background or access to power,"

Georgia Attorney General Election 2022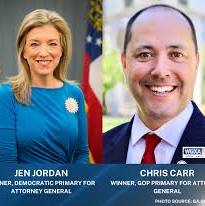 Chris Carr (I) (R) -Within hours of the U.S. Supreme Court decision Friday overturning Roe v. Wade's abortion protections, state Attorney General Chris Carr submitted a letter to a federal appeals court asking the judges to allow a 2019 Georgia anti-abortion law to take effect.
Jen Jordan (D) Carr's Democratic opponent, state Sen. Jen Jordan, made national news in 2019 for her viral floor speech opposing Georgia's law and has been vocal in her disagreement with the high court's ruling.
Georgia's U.S.Senate election 2022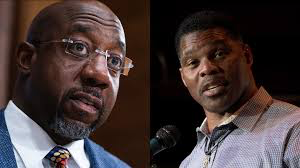 Raphael Warnock, (Incumbent D) is seeking his first full term. Senator Raphael Warnock has a strong lead in Georgia as voters come to terms with the repeal of federal abortion protections by the Supreme Court and the GOP dream of retaking the Senate appears to be getting further away.
Herschel Walker, (R), former professional football, The Daily Beastrevealed that former University of Georgia running back Herschel Walker has three children he had not previously disclosed, alongside his son Christian – this despite his chastising absent Black fathers. This comes alongside multiple allegations of domestic violence (which Walker has attributed to problems with his mental health)
Georgia's U S House Representative
District 1
District 2
Sanford Bishop (I) (D)
Chris West (R)
District 3
District 4
District 5
District 6 new seat
Bob Christian (D)
Rich McCormick (R
District 7
Lucy McBath (D)
Mark Gonsalves (D)
District 8
District 9
District 10
Mike Collins (R)
Tabitha Johnson-Green (D)
District 11
District 12
District 13
District 14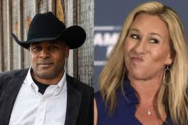 Marcus Flowers (D) Marcus Flowers is the Democrat running to defeat Rep. Marjorie Taylor Greene in Georgia's 14th District. Flowers has spent his entire career defending the United States. First – he served as an active duty member of the US Army, followed by more than 20 years as a contractor or official for the State Department and Department of Defense.
Marjorie Taylor Greene (R) Rep. Marjorie Taylor Greene, R-Ga., suggested in a videotaped podcast this week that the shootings on the Fourth of July,including the one in Highland Park, Illinois,were "designed" to get Republicans to support gun restrictions.
GMW, we're going to use our power in the midterm to secure a senate that will finally do some work on behalf of Americans, by the Grace of God, in the name of Jesus, we shall triumph. Amen