Each Delta Variant Pandemic Death Rests At The Feet And♥️Of The GOP.
Our Former President and His 1st Lady Got Their vaccine In Early January 21, I will not elaborate on this, simply because they did what all sensible and responsible,Americans should have done.
Grandmothers, mothers and women (Gmw); I have no sympathy whatsoever (But, I will ask God to forgive them, for they know not what they do), for any Unvaccinated American 12 and up, who ends-up on Ventilators, from refusing to get vaccinated for something that has killed so many People around the world. Plus, they are endangering the lives of all babies under 12; who look to us for protection. For the NFL, I have no sympathy for them either. They are paid very well to do a job, they have a megaphone that we all listen to. This pandemic makes each of us, our brothers and sisters keepers. Those not vaccinated, are also unnecessarily subjecting first responders, and our medical professional to necessary dangerous, For your selfish behavior.
All of our children from 11 to 0 has no access to vaccines; they are totally vulnerable, And it's up to each of us, from 12 and up to protect them, by getting vaccinated, and creating Herd immunity; to protect the most vulnerable among us, our babies. I have 11 grands and great grands under 12, I'm totally pissed at those of you, who can protect yourself from the virus, (and my babies can't),and you choose to be selfish, thinking only of yourself. Covid-19, doesn't care about your first, second or third amendment rights, if there is a third.
The filibuster should either be eliminated, or force to work, as it was originally stated. Stay on the floor and talk about your opposition to whatever bill you are against or for. Congress, it's time for each of you, to be held accountable for our behavior.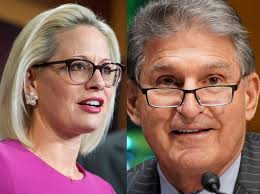 Mr. Manchin and Mrs. Sinema: You are the face of the Liberal White Supremest. The euphemisms you are using for not voting with your party to keep Jim Crow in the gutters, stop the voter suppression tactics the GOP is trying to implementing all over the country. Your behavior is deplorable'; and your fellow-white liberals supremacists, who's hiding behind you, should be ashamed of themselves also. You are making sure, my children of color, will not get equal justice under the law or give DC. , Representation for their taxation, and pass the peoples act. These are issues your party stood for, When your base gave you a majority in Congress.
You need to take a page from the Texas Democrats, they are making the greatest sacrifices of leaving their families, exposing themselves to Covid-19 and other discomfort, just to try and give the Texas GOP time to use common-sense and stop their Voter suppressive legislation. And, you can't even-vote with your party, to do what's right form America, shame on you.
The GOP and selfish Americans: You are totally responsible for whether or not, our schools are open this fall, and our children back in school safe and healthy-being taught American History, the real foundation for critical race theory and January 6th.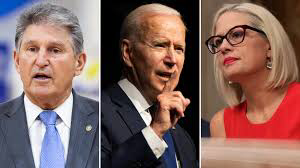 GMW: it's incumbent upon each of us to be diligent, ensuring, Mr. Mancini, Ms. Sinema, and President Biden, Use their Megaphones to define their support for the continuation of the Filibuster. For it to remain, it has to revert back to a real-in-house-on-the floor filibuster. The impact of its use has been Devastating for people of color. Whomever wants it, has to work for it. A phone call Can no longer be sufficient, to enact a filibuster. They should stand on the floor and argue their dissent, pros or cons for however long it takes.
Your Democratic Base gave you a majority in Congress and the Oval Office, So you could pass those bills into Law, We want them prioritize and passed. How it gets done is your responsibility; we did our part, now we will greatly appreciate, you doing yours!
All of our children under 12, Has to depend on us to keep them safe, because there is no vaccine for them yet. I have placed our babies safely in God's hands, and pray, He keeps them safe; while Politicians continually, act like fools. This I pray in Jesus name?